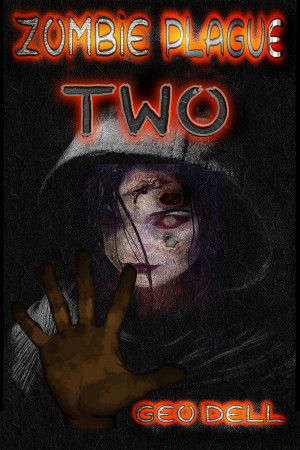 Zombie Plague: Book Two
By Geo Dell
Book Two picks up the tale of Mike Collins, Candace Loi, Patty Johnson, Ronnie Vincent, Robert Dove and the other Survivors as they make their way across the country and into the Heartland, Looking for Robert Dove's promised land. A place where they can live their lives in peace, rebuild their worlds and those of the people they meet along the way. But the world is not done with them yet… 
The ones who have followed them from the small city in New York, are bent on retribution. The dead are searching out the survivors too. And their own growth as they add to their numbers along the way, brings it stresses with it.
The dead are coming into their own too. Once slow and shuffling they have now begun to evolve. Their strength has evolved. Their brains. The knowledge they have and can understand. They are building their own armies. They are looking forward to the promise given them of the whole Earth and everything in it. They are only biding their time, waiting for the other dead to rise and build their armies in the black night.
They began with no leaders, no purpose they could determine just a driving need to kill and eat. But time begins to change them, their direction and their purpose, and it brings forth a leader, Donita. She begins to lead the dead against the Breathers.
Follow along as the two groups race towards their destiny. Both looking to re-settle the Earth…
The Zombie Plague Book Two: Book Two picks up the tale of Mike Collins, Candace Loi, Patty Johnson, Ronnie Vincent, Robert Dove and the other Survivors as they make their way across country looking for Robert Dove's promised land.
Apple: https://books.apple.com/us/book/zombie-plague-book-two/id712828153
Smashwords: https://www.smashwords.com/books/view/357703
---
---